The family business started in 1969 when Robert Ferguson commenced fishing for Southern Rock Lobster in the South East of South Australia, after a career change from farming to fishing. His son Andrew Ferguson continued the fishing business in 1980, adding further fishing vessels to the fishing operations – Ferguson Fisheries.
In 1999, Andrew and Debra Ferguson (founders of Ferguson Australia) identified an opportunity in the Southern Rock Lobster industry, to value add the abundant supply of larger lesser valued lobsters, while exporting the smaller sized lobsters on the international market. Andrew and Debra saw a need to utilise these larger lobsters to not only receive a better price for the fishermen but also keep the industry sustainable. Andrew and Debra went on to develop their award winning innovative lobster range produced from larger sized lobsters and in 2003 established the brand "Ferguson Australia" to manufacture and market this premium range of seafood.
Today, the Ferguson Australia Group is a third generation seafood company encompassing five family members working in the family business, managing many facets across the business, including Ferguson's fishing fleet, export, international offices and Australian retail / wholesale trade.
Ferguson Australia Group is 100% Australian owned and operated by the Ferguson family who are based in South Australia.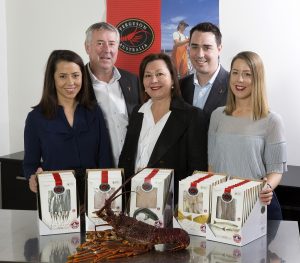 The Ferguson family (from left to right): Kate Birch, Andrew Ferguson, Debra Ferguson, William Ferguson (deceased) and Eliza Ferguson
The family's history in the fishing industry has helped the business to become recognised as an industry leader in the Australian commercial fishing industry mostly due to the family's commitment to marine research and innovative sustainable fishing practices. The family business has also gained international recognition as an award winning and innovative seafood processor and exporter.
The family business is passionate about Australian seafood, supporting local producers and promoting Australian seafood around the world.
Kate Birch (General Manager) chats below with John-Paul Drake from Drakes Supermarkets in 'SA Great with John-Paul Drake' – 12 December 2020.